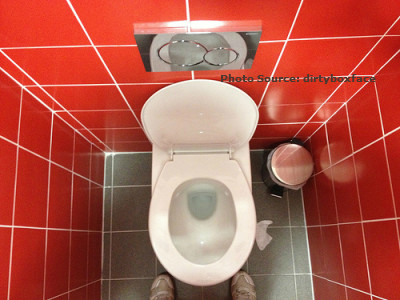 ….Or not. Was that a crude headline? Sorry, I'm feeling a little nutty!
What's shaking these days?
As I sit here on a Friday afternoon thinking about all the stuff that we're finding uber cool these days, I am also mentally running through the crazy long list of to-dos that lay ahead of me this weekend. You have to love a weekend with a wide open schedule. This is not one of them.
Without further a-do, here are just a few things we were loving on:
First and foremost, if you're going to use the word "pee" in a headline, you better be pretty ready to back it up. Oh, I am! I've been talking about variations of a product like the Go-Girl for quite some time, so when I finally bought one, I was pretty excited. Now, I won't go into too much detail about the product. But I will say my visions of discretely sneaking this into the airplane bathroom to avoid the dreaded lady-hover quickly faded into oblivion. This isn't going to work for me and I don't think I'm alone. But, ladies, it's worth a shot. Give 'er a try…you might like it. YOLO!
Next up, while we're talking below the belt, if you have a baby, this stuff is a must Monkey Butt. I know it is a little crazy to kick off a list of things we were loving this week with diaper cream, but believe me, Monkey Butt is amazing. Honestly, I've tried it too, albeit not for diaper rash, but the stuff rocks! Check it out.
Someone (me) had a mood swing recently and traded in her rap mogul car for a 4×4 truck. I better get busy hauling stuff. For what it's worth, some of our greatest joy came from knowing that our sales guy plays in a classic rock cover band, behold the Highway Katz!
Third, Caitlyn Jenner. Need I say more? I meant to post this a couple of weeks back, but I didn't, so I'm owning it now. I know there is all the controversy from the "she's no hero" contingent, but I believe bravery comes in all shapes, sizes, and forms. She has changed lives and she has changed lives as a result of just being authentic. Keep the dialogue going, folks!
While we are at it, I'm not going to lie, Jimmy Fallon started off so questionably when he took over the Tonight Show. But, he really, really rocks it. Stay up late! Watch him!
Speaking of watching, please, I cannot get enough of Leslie Jones from the current SNL cast. That is one funny woman. She and I need to be friends.
That's it for now, everyone! Thanks for reading and remember; even when life gets nutty, you can always find a few things you are loving too.