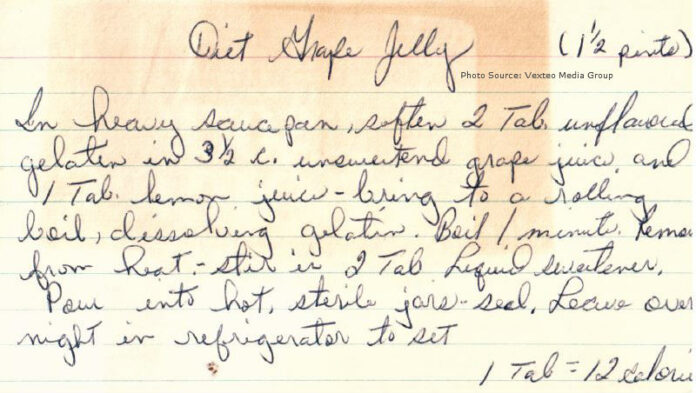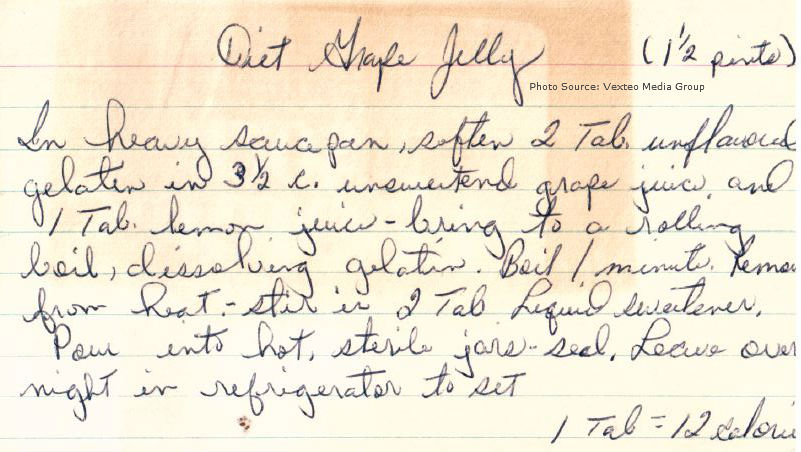 Before I started writing this piece, I kind of eyerolled my momma on this one. As I think about my lifelong struggle with my weight, I realize that the messages of being too big, too much, too heavy, too….whatever, had been drilled into me from a very early age.
Who can overthink a grape jelly recipe? This girl.
As I was thinking about my approach to this piece and flashing back to my childhood of TaB at home and sneaking forbidden sugary foods whenever I could. Truth be told, in my head, I had set this piece up to tell you that this was one of the very reasons for my own lifelong struggles with weight. I don't want to diminish that message, because it is. Let's face it, when you are a three-year-old and your mom is feeding you "diet" this and "diet" that, it really does mess with your psyche.
Soooo…… Back to this Diet Grape Jelly recipe; I touched the recipe card. I smelled the recipe card. I laughed at the recipe card. All of those things reminded me of mom. But, when I sat down to write about the recipe card and I actually read the recipe, I realized that this is a darn good recipe. I probably won't be boiling up gelatin anytime soon because I'm not that patient. However, this post has really got me thinking. And you know by now how much I love to reflect.
Read anything I write and you can tell right off the bat that I can obsess about anything. But as I over-thought about this diet grape jelly recipe it made me realize that I am holding myself back in my present by thinking about my past. Yep, you read that right.
While it's true that the messages and the foods of my childhood made me see myself as fat before I actually was fat and the God-knows-what-was-in-those-canned-meat-products no doubt shifted my metabolism, but that's ok. It's ok to accept that. It's ok to understand that those messages and products did shape me. And it's ok to take that knowledge and to move forward starting today.
So, I'm doing just that. Therefore, here it is. My mom's Diet Grape Jelly recipe, which we'll now call Juice Sweetened Grape Jelly. If you try it, please let me know what you think on our social media. I'm excited to hear if it's worth it to boil up that gelatin!
Juice Sweetened Grape Jelly by Kat's Momma
2 tbls unflavored gelatin
3.5 cups unsweetened grape juice
1 tbls lemon juice
In a heavy saucepan soften gelatin in grape juice.
Add lemon juice and bring to a rolling boil, dissolving the gelatin.
Boil for one minute.
Stir in 2 more tbls grape juice (or a sweetener of your choice).
Pour into hot, sterile, canning jars and seal.
Leave in refrigerator overnight to set.
Perhaps this piece can be best summed up by Destiny's Child; "I don't think you're ready for this jelly." Or, maybe you really, really are…..